Partners
Use QR Codes on Digital Displays to Create an Awesome Interactive Experience
Engagement, engagement, engagement: it's the word that's everywhere in modern marketing. Thanks to social media, where engagement defines how your posts and strategy perform with users and followers, "engagement" as a concept is seeping into other areas, too.
So, whether it's an Instagram post, packaging, or an ad at a bus stop, your customers expect new and innovative ways of interacting with your company or brand.
Engagement can mean more than just having a whip-smart social media strategy, however. It means keeping your customers interested and informed about your products and services, forcing companies to think of new and creative ways to keep their customers engaged.
Sometimes, however, the solution to offering your customers an interactive experience with your product or service is simpler than it might first appear.
There are a huge number of interactive touch points customers have with your business. For restaurants, this could mean the menu, or for hotels, a sign in the lobby. But why not think beyond the traditional printed displays found in places such as these?
A digital display or sign featuring a QR Code enables you to provide dynamic, up-to-date information blended with on-brand graphics and an innovative touch.
QR Code signage allows customers to engage with all of these touchpoints easily and without fuss. Moreover, it helps you to be fun in your communications and offers much more than regular signs or displays could ever allow. Bold visuals, branding, and an easy-to-use piece of tech — the QR Code — can all create an experience to give your customers a fresh feeling for your business.
But what are the best ways to create a digital display that will help your customers interact with your business better? And how can you make your electronic signage solutions innovative? For that, we'll take a look at the different types of QR Codes and the creative ways they can be used with a digital display screen.
Combining electronic signage solutions and QR Codes
There are two approaches to take when using QR Codes with your electronic signage solutions.
The first is practical and informative: when a customer scans the digital display QR Code on a screen, you grant them access to some additional information, which they can then take with them on their phones. This could be a PDF of a menu, business details that they can save directly to their phones or use to send an email to a contact, or feedback.
The second is where you can be creative: linking to your social media channels, adding audio downloads or lookbooks, and much more. It's even possible to create interactive walls with QR Codes for engagement that goes beyond just a digital advertising display.
In either case, you're transforming your digital display into something more than just a sign. You're creating an interactive experience for your customers and letting them engage with your brand or services in creative, meaningful ways.
What are these little black squares anyway?
QR Codes are everywhere — and they're only just getting more and more popular. Since the coronavirus pandemic hit, many industries have implemented them, offering their customers or clients a whole host of contactless solutions: menus, to name one example, but also on a larger scale for things like contact tracing and vaccination certificates.
With their explosion in popularity over the past couple of years, you'd be forgiven for thinking that QR Codes were only invented a few years ago.
Far from being a new technology on the block, QR Codes have been around for a long time: since 1994, in fact, where they were first invented in Japan as a means of stock management.
Wondering how does a QR Code work? Our guide can fill you in with all the technical details. Simply put, however, it's an elevated form of a barcode. Unlike a regular barcode, which can only be read horizontally, QR Codes can be read both vertically and horizontally in their square, pixelated form. This allows them to hold much more information for things like redirecting users to a specific URL, for example.
Their ease of use — since 2017, iPhones have had the capability to read QR Codes embedded into their cameras, without the need for a third-party app — and increasing familiarity with customers means that QR Codes are on a roll, popping up everywhere from restaurant tables to billboards, packaging, and much more.
Why should I choose QR Codes for my digital display?
Think of QR Codes on your electronic signage as the missing link between you and other digital services. You're a restaurant chain? A QR Code lets you collect instant feedback from your customers. You're a retail brand? A QR Code makes sure your customers can download your app or visit your website, all in the blink of an eye. Most importantly, however, QR Codes can give your marketing a dynamic twist, allowing you to be creative with your message and customers. After all, 88% of marketers have said that interactive marketing is effective in helping brands differentiate themselves from one another.
At a time when customers expect interactive content, QR Codes allow you to get creative with the information you share and take them that next step of the way.
However, it's important to note that not all QR codes are created equal. There are two different kinds of QR Codes that you'll encounter: the Static QR Code and the Dynamic QR Code.
Static QR Codes are simple, easily generated Codes that can direct users to things like plain text or a URL. Once created, they last forever — and can't be changed.
Dynamic QR Codes are much different, however. Once this QR Code has been generated, it's possible to edit it and change its functionality to display different details or direct users to a new site. It's also fully customizable and gives you access to tracking data.
The QR Code tracking metrics available from Dynamic Codes give you insights into where your QR Code was scanned (if you have multiple screens in several locations, for example), when it was scanned, and on what device. As a marketer or business owner, you could find this data useful when developing new ideas for your company or brand. It can also help you measure the impact of your digital displays on the public.
Advertising is just one point where you can engage with the public, but there are plenty of other innovative ways you can incorporate QR Codes into your electronic displays and learn in the process.
Introducing QR Code Generator's new partnership with OptiSigns
To create a digital display, you'll need some hardware that's up to the job: namely, a big screen that commands attention and allows you to layout all your visuals and branding in crystal-clear style.
There are other aspects you might want to consider: how do you create these visuals? Can they be changed remotely?
OptiSigns, QR Code Generator's new partner, offers all-in-one digital screen solutions: templates of suitable visuals for a huge range of industries and a web app that lets you manage everything from a computer. The only hardware you need is a suitable screen, and, if it's not already a feature of the screen you plan to use, an Amazon fire stick. For larger companies with multiple locations, it can help you with configuring this, too.
5 Digital Display QR Codes that will make your electronic signage pop
To offer your customers an interactive experience with your brand, you'll need them to be able to do something after they see your digital display. Whipping out a smartphone and scanning a QR Code is the first step, but these Dynamic QR Code examples allow your customers to interact with your brand beyond just visiting a URL — they invite them to engage.
Feeling inspired and ready to inject some creativity into your digital displays? There are many different kinds of QR Codes for you to choose from – here are some that your users or customers may find the most useful when engaging with your brand.
#1 Feedback QR Code
Of course, quick, on-the-spot feedback about a meal a customer has eaten, or a service they've just enjoyed, is the fastest way to measure the impact of your business.
With a Feedback QR Code incorporated onto your digital marketing screens, it's possible to get more than just constructive criticism. Try asking interesting or brand-related questions that will pique the interest of passersby, forcing them to think about your brand or product — and leaving a lasting impression as a result.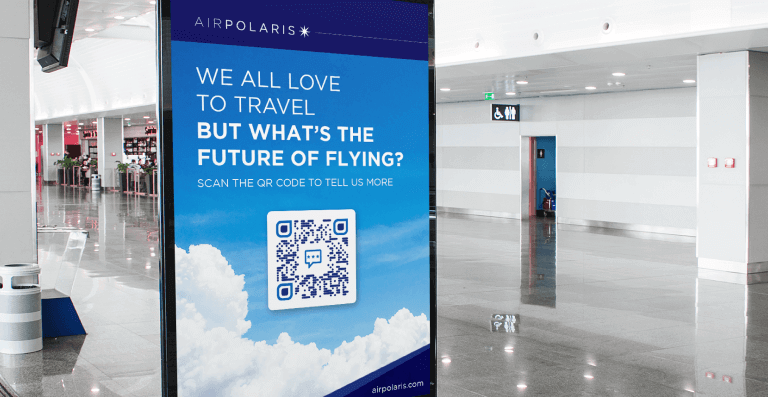 #2 Event QR Code
If you're planning an event — whether it's the launch of a new product or a big corporate event at your office — incorporating an Event QR Code onto your digital display has huge potential.
Of course, you'll want to use your digital display to inform passersby about all the most important details of your event, but as for them signing up? When scanned, the Event QR Code allows any user to RSVP directly for your event and save all their details on their phones.
#3 Business Page QR Code
So your digital display is showing off with great branding, and you've put a great message front and center. But what about making sure your clients have the details they need to take with them?
A kind of digital business listing, the Business QR Code connects customers and clients with all the most important details they need to know: opening hours, addresses, and so on. Most importantly, they can save those details then and there and act on them.
If you'd like to connect customers or clients with individual representatives from your business, a vCard Plus QR Code is your best bet. A digital replacement for traditional printed business cards, the vCard Plus features contact information for individuals, a picture, and other information you'd like your customers to access.
#4 Social Media QR Code
How do you know that your digital display is making an impact? For one thing, there's QR Code tracking with every Dynamic QR Code you create, which gives you precious metrics about when your Codes were scanned.
But there are other ways. Promoting your social media channels with a Social Media QR Code allows you to hit two birds with one stone: get Dynamic QR Code tracking information and build your followers and online reach. After all, if your display captivated your customers, they'll be more likely to want to engage with your brand or business further, an opportunity that's perfect for building on your social media channels.
For social media, it's also possible to promote raffles and giveaways and to give your customers a well-rounded brand experience that leaps off the screen and into their profiles.
#5 Coupon QR Code
This one is for business owners in service or retail industries. If you're using a digital display to promote new products, you'll want prospective customers to go that one step further and make a purchase.
When scanned, the Coupon QR Code gives users access to an exclusive promotional code, encouraging customers to act upon the products they've just seen you advertise and act on your deal.
Digital displays and QR Codes: a creative combination
There are endless touchpoints that you can use to interact and engage with the public. Instead of using traditional advertising, digital displays and QR Codes are a creative, innovative combination: inform your customers or clients with bold branding and changing visuals on a display featuring Dynamic QR Codes.