Best Practices
How to Use QR Codes for Inventory Management
QR Codes were originally developed to modernize large inventory management systems, because of their ability to hold more information than Barcodes. Their use today can be found across many logistics and warehousing systems for managing large product volumes. And even better—now they come with endless possibilities for customization and information they can be linked to.
What is a QR Code?
A QR Code is a 2-D version of a Barcode that can be read both horizontally and vertically. It can be linked to a wide variety of information that can be used to enhance marketing campaigns, be used for internal business processes, and are also useful in private life. QR Codes are made up of seven essential partners and can hold up to 4296 characters. Based on a complex matrix system using symbols, they are most often read using a QR Code scanning app. Some newer models of Android and iPhone also allow for QR Code scanning directly through the camera.
QR Codes were developed for inventory
The original version of a QR Code was a 1-D version known as a Barcode that could only be read horizontally. The need for such technology arose in Japan in the 1960s as a wave of consumerism hit supermarkets and retailers that needed to accumulate larger product ranges in single stores to meet market demands. Before Barcodes existed, cashiers were ringing everything up by hand, an extremely slow and painstaking task. As the cashiers began to develop resulting health issues, supermarket managers needed to find a better solution. While barcodes worked for a while, they still weren't meeting the needs that mass product inventory management requires.
As a result, they contacted the DENSO WAVE INCORPORATION to find a solution. Inventor Masahiro Hara and another team member came up with the idea of QR Codes due to their square shape. This shape was the key that allowed QR Codes to hold much more information than barcodes.
The perks of using QR Codes for inventory management
Inventory management needs nowadays have far surpassed what was required in the 1960s, so Barcodes simply aren't enough anymore. With complex global manufacturing and logistics systems, QR Codes provide the capability to hold much more comprehensive information for these systems to function properly.
No more need for old school scanning devices
As mentioned above the shape of 1-D Barcodes means that they can only be read horizontally, limiting the information they can hold. But another disadvantage to this shape is that it takes a special scanning device to read them, which can be a hefty expense for companies with large inventories. Traditional scanning devices also need to be connected to a computer or at least have one nearby. Take Parts Brite, for example. Product inventory management often takes place in a busy loading dock warehouse such as theirs and it's not convenient to have a computer in the middle of it all. Using smartphones to scan QR Codes is much easier because everyone already carries their phone in their pocket anyway.
Display additional information
The large increase in information capacity from the square shape of QR Codes means that they can hold hundreds of times the information more than Barcodes. This makes QR Codes capable of being linked to a wider variety of information with different types. QR Code Generator offers a vast range of solutions to generate specific types of QR Codes for every type of use.
In particular, when it comes to product inventory management, you can connect information such as manuals via a PDF QR Code, product images with an Image Gallery QR Code (useful if multiple items are in a box), and Video QR Codes that share a video for how something works. Furthermore, the more common use of Business QR Codes helps with identifying transportation boxes, something extremely worthwhile if a warehouse is dealing with products from multiple companies.
Increased error correction
A big advantage of QR Codes over Barcodes is they have up to a 30% error tolerance. This means that nearly a third of the QR Code can be damaged and still work, an absolutely necessary element for products that are shipped and processed globally. This capability again comes from their square shape because the elements of the QR Code (pixels) are grouped in duplicates. Products can run through many different types of transportation and weather throughout their total processing, so damages to printed to QR Codes can easily occur. This error correction helps to avoid the additional time it would otherwise take to process damaged Barcodes.
Tracking info
With inventory management, companies likely keep track of specific information like the location of the scans and the time scanned. QR Code Generator allows for detailed tracking information for both country and city in real-time. You will likely need additional inventory management software for further information, but these details can be compared with the QR Code tracking data for accuracy.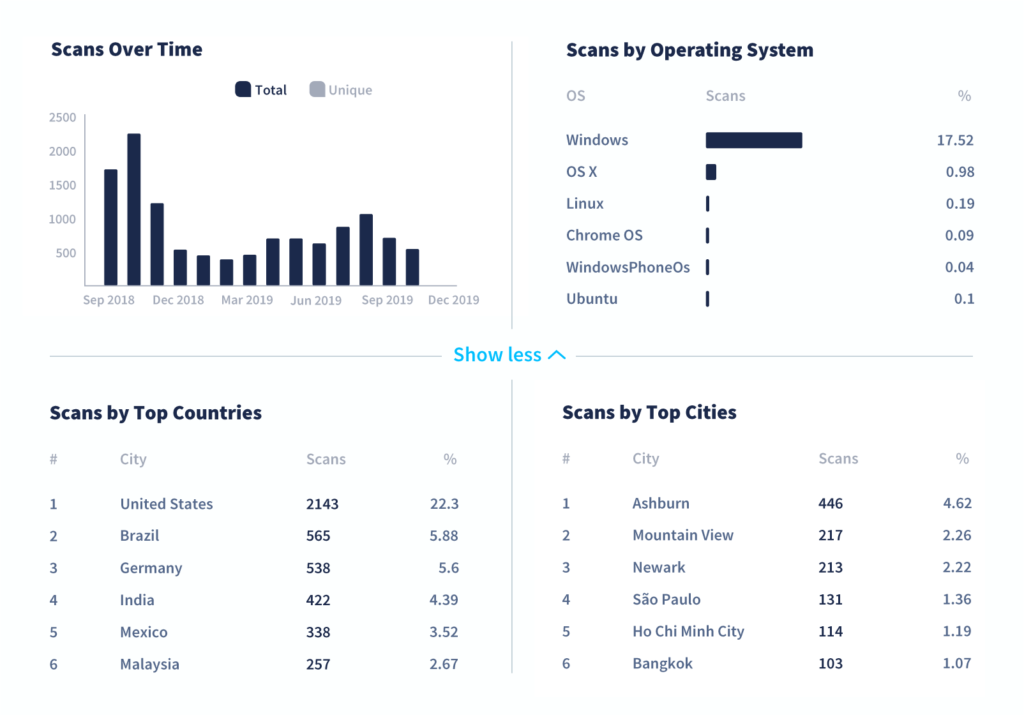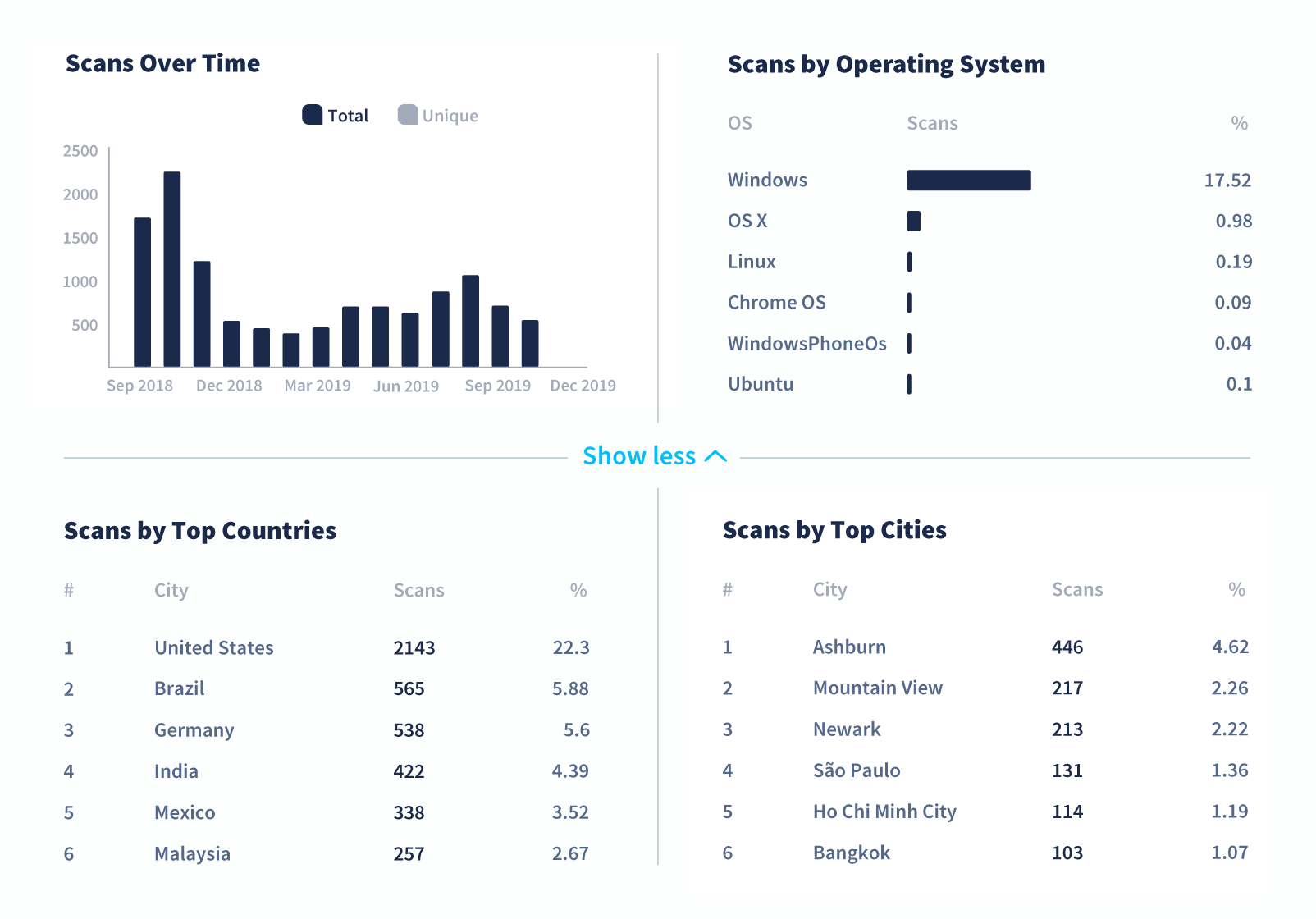 Customize for different types of products
Particularly if your inventory comes from or goes to different companies, it can be helpful to distinguish them by changing something such as the color. This provides warehouse staff a simple way to label and organize boxes before they even begin scanning. QR Code Generator has many colors and frame variations for such purposes.
Pro tip: Make sure to print QR Codes at a size of 2 x 2 centimeters (about 0.8 x 0.8 inches) at an absolute minimum. Even a bigger size is better because that ensures that the QR Code isn't blurry and the edges aren't cut off. Particularly for packaged items with uneven surfacing too small for QR Codes could make them unreadable.
Editability with Dynamic QR Codes
Dynamic QR Codes have given QR Code technology an even further upgrade. All Dynamic QR Codes contain the tracking information as mentioned above, but they have an additional benefit: they can be edited at any time. Inventory management systems are largely based on printed QR Codes produced at large volumes. This increases the chance of mistakes occurring. Not only can the type of QR Code be changed at any time without having to change the printed version (such as PDF QR Code to Image Gallery QR Code), the information linked to it can be edited and updated in case of mistakes or new versions.
Still works with UPC Barcodes
UPC Barcodes are an upgraded version of original Barcodes that can be scanned by smartphones. Many of them are highly in use for simpler product inventory systems, but they can still be scanned with a QR Code scanner. It may be a large effort to re-label all products with QR Codes, so this is a way to simplify that process so only new products need to have QR Codes added to them.
Easy to integrate into current product inventory systems
All of the above points have the cumulative effect of making QR Codes easy to integrate into currently used product inventory systems. Most inventory management software already allows the use of QR Codes, so you simply need a way to generate them. With many free options and a free trial with the option to upgrade, QR Code Generator is the perfect place to begin doing so.
Further benefits of QR Codes on product packaging
Not only are QR Codes useful for product inventory management, but they can also be used to upgrade product packaging for end consumers. They two basically go hand in hand to boost marketing and promotion efforts.
Include additional materials
While employees may find a use for PDF QR Codes to display product manuals, so too do customers! Especially if you have products that require assembly, you can provide assembly instructions in a video version, which is even easier to understand than written manuals. Other types of attached information may be interesting for customers as well such as recipes, coupons, information about ingredients and more.
Increase social media following
A great way to gain more social media followers is by adding a Social Media QR Code to product packaging. All individual platforms are easily displayed and can be accessed with a single click. Every aspect of the QR Code can be customized to fit your brand, including the colors, logo, and frames.
Collect consumer feedback
Many brands benefit from ratings and feedback to improve their reputation. There are QR Code versions for both that can easily be added to product packaging. These QR Codes are optimized for any device and be designed to fit with the package's graphic styling.
Pro tip: QR Codes on print materials should always take design into consideration to ensure that aesthetics and the QR Code appearance are accurately displayed. For more product packaging QR Code design tips, take a look here.