Industry Trends
Get More Reviews from Your Customers With QR Codes
Without a doubt, online reviews are one of the most important aspects of a business's online presence in today's day and age. Nearly everybody reads them and evaluates a business based on that, which is crucial for sales and brand awareness. So how can you generate more reviews? QR Code Generator has a few nifty QR Code solutions for exactly that.
Why are reviews important?
A whopping 97% of customers read online reviews before they buy. And almost half of those interviewed will only trust 4-stars or better. This is the case for businesses across every industry. The result? Reviews can truly make or break a business.
The reason why customers care about online reviews so heavily is that they reflect the trustworthiness and reputation of a business, especially when a customer first comes into contact with a new brand. If a Google My Business listing comes up with tons of bad reviews, you can bet that there's a good chance that customer will never visit that website.
Nevertheless, negative reviews don't mean that your business has come to an end. When you've been around long enough, a negative review is bound to happen. You can salvage the effect of bad reviews by replying to them publicly, professionally, and in a manner that provides a solution. The overall point of reviews is that potential customers can see how you handle the good, the bad, and the ugly. If the concept of customer service is publicly conveyed as being important to your business, customers are sure to take note and make more purchases from you.
Online reviews statistics
To give a few pointers on why online reviews are so crucial for today's business world, take a look at these statistics:
Buyers require an average of 40 online reviews before believing a business's star rating is accurate.
Shoppers across all age ranges expect an average of 112 reviews per product when they search online.
91% of 18-34-year-olds trust online reviews as much as personal recommendations.
86% of consumers read reviews for local businesses (including 95% of people aged 18-34).
So what does this reveal? All business owners should take the time and effort to generate good reviews — and a lot of them.
QR Codes help generate more reviews
Although it may sound scary to ask customers for reviews, customers are generally willing to leave them when they are satisfied. There are many popular platforms for obtaining reviews, the major players being Facebook and Google My Business. But this may be tough when you're starting from ground zero. If you'd like to generate reviews for use within your own business or website, there are QR Code types exactly for this: Rating QR Code and Feedback QR Code.
Rating QR Code
Rating QR Code is the quickest form of reviews. When a customer accesses them, they can leave an emoji-based rating as well as a short description of their experience. In under 60 seconds, customers can scan your QR Code and input their rating, which you then receive a copy of via email. Ratings are displayed on custom rating pages on your website, a portfolio, a digital business card, and more. Rating QR Codes are connected to a short URL, which can also be published on other platforms such as social media.
Pro tip: All QR Codes and rating pages are completely customizable to fit your brand. You can choose exact brand colors, play with the edges and frames of your QR Code, as well as add your logo within the QR Code. Nonetheless, there are a few things to keep in mind when it comes to QR Code design. Take a look at this overview of QR Code design tips when getting started.
Feedback QR Code
If you're looking for more in-depth feedback, a Feedback QR Code may be more useful. This type of QR Code uses a star rating (out of five), as well as a much more detailed feedback page that you also receive copies of via email after submission. Your feedback page can include sections for customers to review different aspects of your products or services. For example, if you're a hotel manager, you might be interested in feedback on your room cleanliness, reception, meeting rooms, amenities, and connected services like a bar, restaurant, or spa. No matter the business, the categories can be customized to suit exactly to your business needs.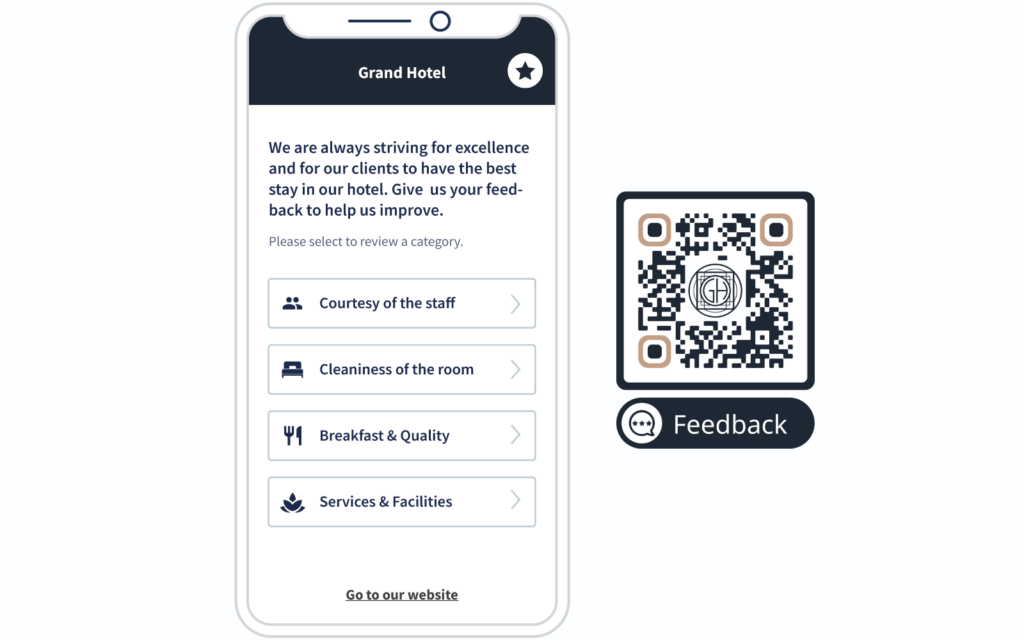 Furthermore, the same customization features also apply for Feedback QR Codes. Not only can your feedback page be styled for your brand, but your QR Code will also match perfectly with your logo, brand colors, and brand style.
Link to public review sites with Social Media QR Codes
If your intent is rather to showcase your reviews from public review sites such as Yelp, TripAdvisor, or Trustpilot, this can be done with Social Media QR Codes. Social Media QR Codes have identical customization features as with all of QR Code Generator's solutions. This type of QR Code displays social media links in one convenient mobile-optimized page. This is particularly handy when moving users from desktop to mobile so that they don't need to search all the links themselves on desktop, but instead can scan the QR Code with their smartphone and be taken there directly.
Pro tip: Trustpilot also has a handy method to integrate Trustpilot and non-Trustpilot reviews, so they appear for customers in one convenient place.
How can QR Codes help your new business get more reviews?
Regardless of whether your intent is to get more feedback, generate online ratings for your own website, or showcase how awesome your business is through public review sites, QR Codes perfectly complement the online review process. For some inspiration on how this works, we've got some business use cases below.
On receipts or table tents
The food industry heavily relies on online reviews, because customers often use this as their deciding factor for whether to visit a restaurant or not. One method to generate more online reviews as a restaurant is to add Rating QR Codes to customer receipts and table tents. Customers then have the chance to leave a review both at the restaurant as well as later on when they have the time.
After fitness classes
Gyms and fitness studios who offer training classes are likely to be more successful when those classes meet customer expectations. After a new type of class is being implemented, you can send follow up emails to attendees with a Rating QR Code for them to leave some feedback on how they felt about the class. Alternatively, if you'd like to gauge customer satisfaction for your entire facility, you may consider sending a Feedback QR Code in the same manner. The same goes for a poster with a Feedback or Rating QR Code in the changing room as well.
Place around a retail shop
A fashion retailer will often need to change their available products based on current seasons and trends. Adding a Rating QR Code around the store could provide insight into whether customers found a certain seasonal collection or a new designer's clothes interesting or not. Place them at the cash register, in the dressing room, or even on products themselves to maximize the chance for customers to find them.
Get feedback on user experience for software and apps
Software and technology products can only be successful when user experience is balanced with customer expectations. You can add a Feedback QR Code to product packaging, on website landing pages, or send out via email asking for details about different aspects of software use and then optimize and update your software based on this feedback.
Put QR Codes in hotel rooms
Hotels and tourism-related businesses rely heavily on online reviews and customer feedback to get bookings. A hotel could add a Feedback QR Code directly to a printed table card in every hotel room. Then guests can submit detailed feedback for different types of rooms on their own time. This could reveal potential problems that hotel managers haven't discovered before so that each room can be adjusted to meet guest expectations.
Send to patients after hospital appointments
When it comes to healthcare services, online reviews make a huge difference in how potential customers perceive a business. The process of finding the right doctor or dentist often includes comparing online reviews to see whether other patients were satisfied or not. As a healthcare provider, you can simplify the process of getting feedback for every aspect of patient visits by sending Feedback QR Codes printed on forms or business cards so that patients can fill them out later when they have time. You could also ask for feedback via email after the appointment to minimize the paperwork the patient needs to take home.