Best Practices
Upgrade Your Digital Marketing Strategy With QR Codes
What do QR Codes have to do with digital marketing? How can QR Codes skyrocket your digital marketing strategy success? Since digital marketing is reliant on online-based digital technologies, it makes sense that QR Codes, the kings of bridging different digital platforms, would improve your campaigns. QR Codes both upgrade your digital marketing campaigns, as well as offer an endless amount of options for customization.
What is digital marketing?
Digital marketing may just sound like a buzzword, but there's a good reason for its widespread use nowadays. According to the Pew Research Center, internet usage among adults has increased by 5% (which is crazy considering the majority of the world now has access) and shows no signs of slowing down. Of course, this affects how people shop – and inevitably how marketing is done.
Digital marketing can be defined as the process of using digital methods to market products and services to audiences on a global scale. These methods include:
Social media posts & ads (Facebook, Twitter, LinkedIn, Youtube, Instagram, etc.)
SEO (search engine optimization)
Google ads
Email marketing
Online lead generation
Content marketing
Affiliate marketing
Native advertising
Online PR
Marketing automation
Inbound marketing
Mobile marketing
Video marketing
To describe all of these in-depth would take an extremely long time (which is why there's now complete Master's degrees on these topics). Nevertheless, the basic premise is that through the use of these digital methods, businesses can now reach more people in a shorter time period and for less money than ever before.
How QR Codes increase digital marketing campaign success
So what does this have to do with QR Codes? QR Codes are a massively effective digital marketing tool. QR Code technology was developed around the concept of using a simplified code in the form of a square that can be easily linked to other types of information. QR Code Generator has utilized the flexibility of QR Codes and developed QR Code solutions for nearly every type of situation. This makes QR Codes the ideal tool for marketing campaigns.
Improved campaign tracking
Any marketing expert will tell you that tracking is one of the essential fundamentals for understanding and improving marketing campaign success rates. Without monitoring campaign metrics, it's impossible to know what you're doing right and what's not working. QR Code Generator's software includes detailed tracking metrics for all QR Code campaigns using Dynamic QR Codes (more on these below).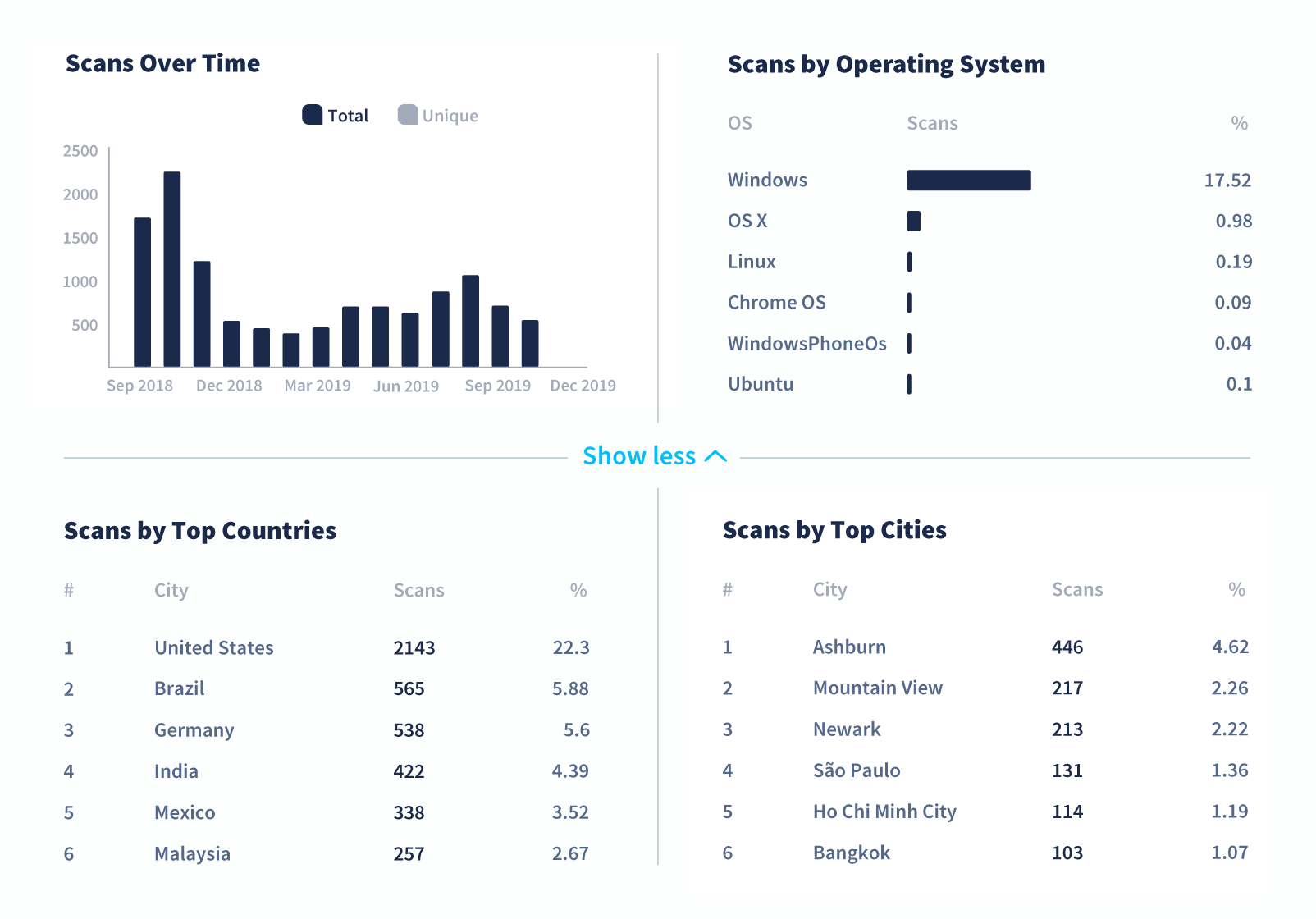 This data includes the operating system used, location of the scan by city and country, time scanned and total versus unique scans.
Editability with Dynamic QR Codes
Dynamic QR Codes have taken QR Code technology to a whole new level. Not only is it possible to track these QR Codes, but they are also editable after they've been printed. This means that if you accidentally made a mistake in your URL or need to change it to a newly developed version, you don't need to redesign your marketing materials. The QR Code's appearance won't change, but the information it's linked to can. What's more, you can even change the type of QR Code used. So if you started with an Image Gallery QR Code, you can, for example, change it to a PDF QR Code with absolutely no worries.
Easily link to a wide variety of information
Speaking of a wide variety of editable solutions, QR Codes have applicable uses for both business and private. No matter whether you want to increase your social media engagement, create a digital business card, share videos, or get more event registrations, it takes just a few minutes to get started.
Convey brand individuality
The benefits don't stop there. Another key part of digital marketing campaigns is including specific branding elements such a logo, brand colors and a specific CTA (call to action). It's easy to make your QR Code funky, formal, or fabulous with custom frames, a professional-level color picker and various options for edges.
Pro tip: If you're looking for more information on how to design QR Codes, take a look here.
How to create a digital marketing strategy
Creating a digital marketing campaign can be a highly technical and multifaceted process. Depending on the company, product or service, target market and a variety of other factors, digital marketing strategies are often created on an individual basis. While experiencing good campaign results often takes experience and experimentation, how the process is formulated incorporates relatively the same steps.
#1 Define campaign goals
The majority of digital marketing campaigns – or marketing campaigns in general – begin with defining a clear set of goals. What should your campaign accomplish? Should it increase brand awareness? Generate leads? Bring in more revenue? Once you know your goal, it gives a starter direction to your campaign.
#2 Analyse target audience
The next step is to understand who you want to direct your marketing efforts. This involves asking and answering questions such as: what are my target market's demographics? Are they B2B (business to business) or B2C (business to consumer) or both? What platforms should be used to reach them? What problem does my product or service solve for them? This information gives insights into how this target market can be reached.
#3 Analyse previous marketing efforts
If you've done marketing campaigns before, it's highly worth taking a look at how they functioned in the past. Did the methods accurately reach the target market? Were there methods that worked better than others? What can you do differently in this new campaign that you haven't tried before? This allows you to finalize the concept behind your marketing strategy.
#4 Configure marketing budget and marketing channels
The combined information from your campaign goals, target audience, their preferred channels, and data from previous campaigns is the foundation for your new digital marketing strategy. Focus on creating a budget that allows you to stick to this strategy for at least a period of a few months. Digital marketing takes patience and experimentation so if you change your strategy constantly, you'll never find out if it's really successful or not.
#5 Create a content strategy (brand values)
After you've finalized your strategy and platforms, outline the types of content that should be used. This involves organizing elements such as copy, brand colors, graphics styling, what types of content to post and publish where and how often, and what tone is used.
#6 Implement the campaign
Now comes the exciting part: implementation. Put your plan into action based on the strategy and types of content you outline. Do this consistently over an extended period of time. It should be long enough that you have time to gather enough data to measure its success, but also short enough that you don't continue using a strategy that's not working. Only time and data will tell what this mix is for each company.
#7 Monitor the campaign
Keep detailed records of the data throughout the entire campaign. Compare success rates from different platforms. Take note of whether your target market is truly engaging with your content or not.
#8 Adjust for improvements
Finally, use these metrics to adapt your strategy to achieve the best possible campaign. Sometimes even the smallest of changes can have massive results. Using this in-depth process of data monitoring and making adjustments is the driving factor behind campaign success.
Digital marketing strategy examples using QR Codes
Using QR Codes in digital marketing strategies uses the same steps – only you add in a QR Code! Here are a couple of examples of how this can be done.
Increase social media following
Social media marketing is one of the top methods used by digital marketers. Social Media QR Codes can be easily added to both social media campaigns themselves and as a part of other campaigns to increase social media engagement. A few examples are: using them on print materials at company events, putting them on website landing pages, or including them in email marketing campaigns.
Test out different locations
Due to the combination of QR Code Generator's tracking capabilities and Dynamic URL Codes, testing landing pages for different locational demographics is easier than ever before. Dynamic URL Codes track information such as the cell phone operating system, time or location. This is highly valuable for international companies that have target markets that speak different languages and live in different areas across the globe, so you can see which types of campaigns work in which places. Check out this helpful guide for how to input specific campaign details.
Boost app downloads
App use has literally gone viral: mobile now represents almost 7 in 10 digital media minutes, and smartphone apps alone account for half of all digital time spent. Many companies that started with desktop versions now also offer apps so that people can continue to use their services via mobile. Not to mention the world of app gaming and the fact that there are apps for basically every use imaginable.
The important point to note, however, is that apps gain their popularity because of the marketing behind them. Adding an App QR Code to a marketing campaign focused on app downloads is a fantastic way to boost its reach and success. App QR Codes also have the possibility to include a video trailer of your app, a website for that app or even showcase multiple apps at once.